Build a DIY Paint Shelf. Great for added storage and fits the craft paint bottles. Built from scrap lumber or pallet wood, it is budget friendly and easy too.
Are you ready for an update on the revamp of the Studio Cottage interior??
My Little Cottage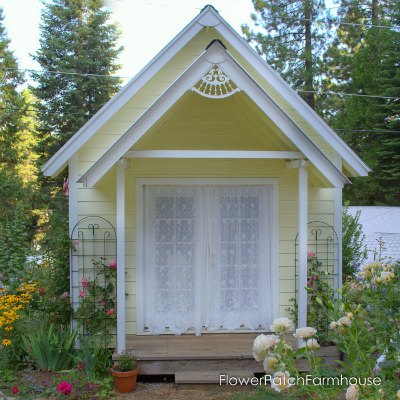 (for plans of this little cottage just click here)
You remember this shot of the more than embarrassing state as I re-decorate and organize my garden studio cottage?
(this post contains affiliate links, please see my disclosure page for more information)

It is always WORSE before it gets better.
It is coming along slowly but surely and I am taking my time so I have a practical and useful place for everything I use on a regular basis and good storage for all the other infrequently used items.
So the number one thing I needed to build was this trusty, dusty little cubby paint holdin' shelf unit.
It turned out perfect and my little paint bottles are within easy reach. The top shelf has me stretching as I have to reach across my painting table but it is still doable.
I started with some scrap 1 x 4's and nailed them together with my Ryobi nailer (love, love it!) It speeds things way up.
I measured the distance between the windows and made sure to cut the horizontal boards to a length that would fit between, including the vertical board width. I then built a simple box.
Not too complicated, then I divided the inside dimensions by how many shelves I wanted and tried to make them all an equal distance apart. I was not exact but I did not need them to be.
I nailed in the individual shelf boards. I used wood glue on all joints for added strength.

I did not get a shot of the piece I added at the top to screw into to hold it to the wall so I point it out to you here. It is a piece of 1 x 1″ or a furring strip could work too.
Here is the little shelf unit sitting for a glamour shot on the front porch of my studio cottage waiting to be installed…
I painted it first in Everlasting DecoArt Chalky Finish paint. Then I painted the front and outer sides with Refreshing DecoArt Chalky Finish Paint.
I am using the same paint to refurbish my Armoire/Wardrobe storage cabinet.
I have one side and the front partially done. This is one bulky piece and it is taking me a bit to get it painted. I have some sliders to put on the feet so I can move it more easily but I will need my hubby's strong back to help me get them installed.
You can see the one side in this photo below.
Tomorrow I will get my hubby to help me move it and get the sliders on it then I can finish getting it painted and organized.
While I had the paint out I freshened up the paint on my table that sits just below the cubby shelf. I will share that next week and hopefully my storage armoire will be finished too.
Have a great weekend!
Please Pin and Share…