Be Someone Inspiration
Happy Day everyone!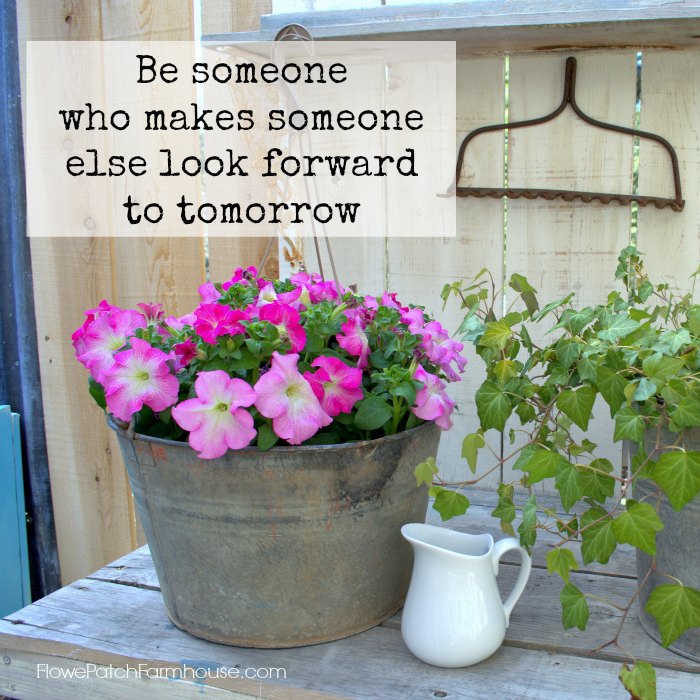 (for a higher resolution downloadable file CLICK HERE)
I am hoping you had a grand weekend.  We got a good downpour of rain on Saturday complete with thunder and lightening.  Not the best day to have it as we were out cutting, splitting and stacking wood for many in our congregation.  Despite the weather we carried on and had a grand day.
The parking lot flooded and we affectionately dubbed it the pond.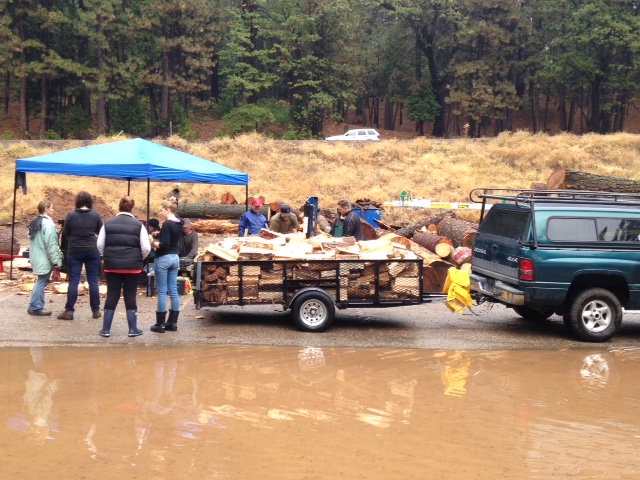 At lunch we had a waterside picnic making the most of our scenery.  We had breaks here and there from the rain but it was fairly consistent.  We all are sore today but well pleased with what was accomplished.
On another note I want to share some great photos sent to me by readers who have crafted things from my tutorials and plans.  I love it when they send me what they have done with them and I just wanted to share.
One is from a gentleman who made a bench from my Victorian Farmhouse Bench post…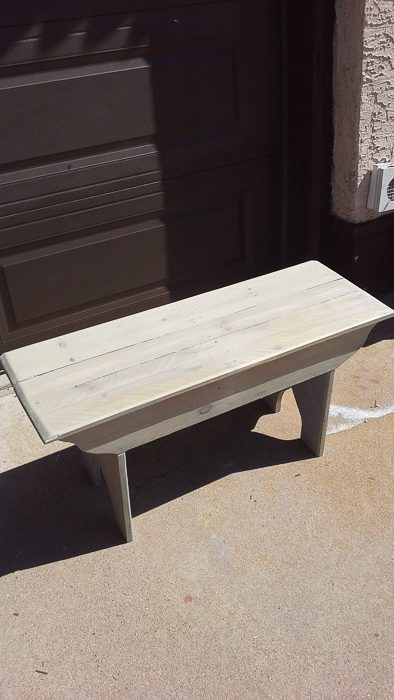 Others have made my benches as well but I could not find the photos or the names so that I could ask their permission to share them.  Many times the quality of theirs is better than mine, but I don't mind a bit.   I am a novice woodworker, at best.
This same gentleman also painted a birds nest on the laying box of his hen house using my Nest painting tutorial...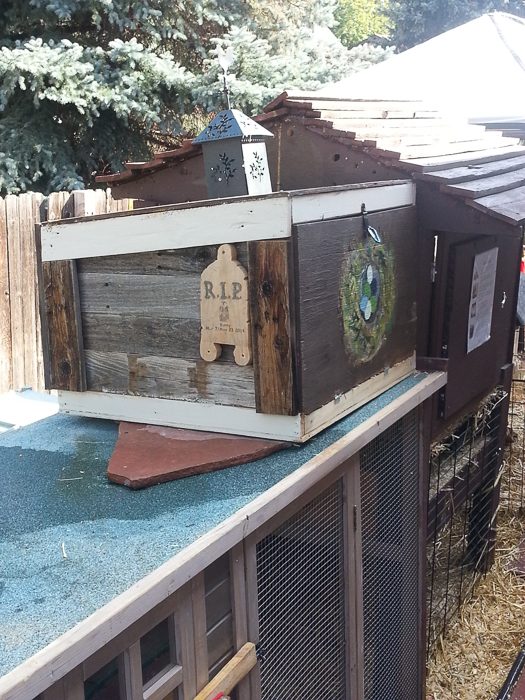 I thought it a cute idea, maybe I should paint the front of our hen house with a fun motif or mural.
My latest project share was the huge, front porch Welcome sign and this is what one reader made from it.  I love the way she made it her own with a heart for the O instead of a pumpkin!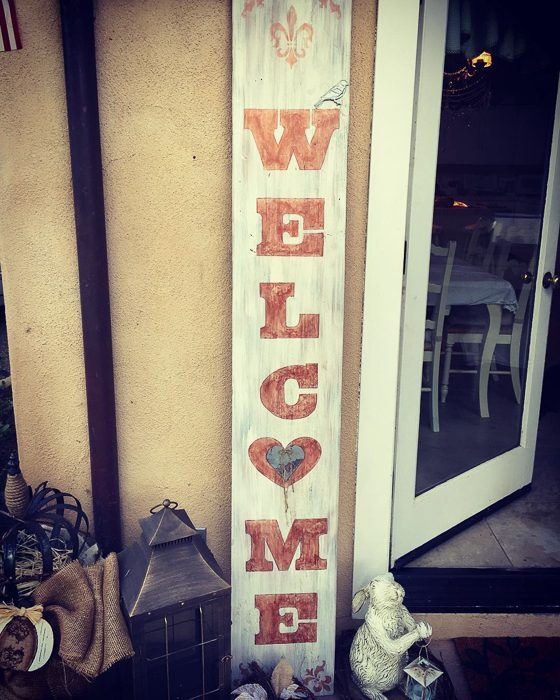 Another reader took the Scrabble Tile Art post and really did a fabulous job with making them her own.
I love everything about them!  The addition of leaves in the corners and outlining the lettering adds such a lovely touch.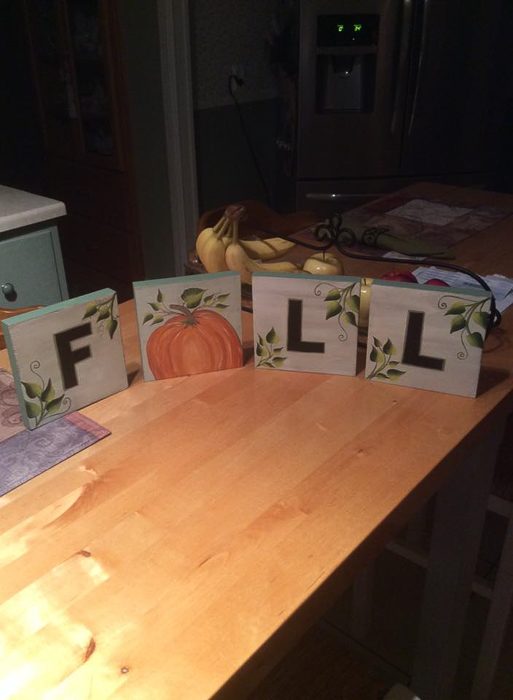 The super dark background makes it all pop and the little dashes around the edges is so fun!  I like the way she did her leaf, I am going to have to try that.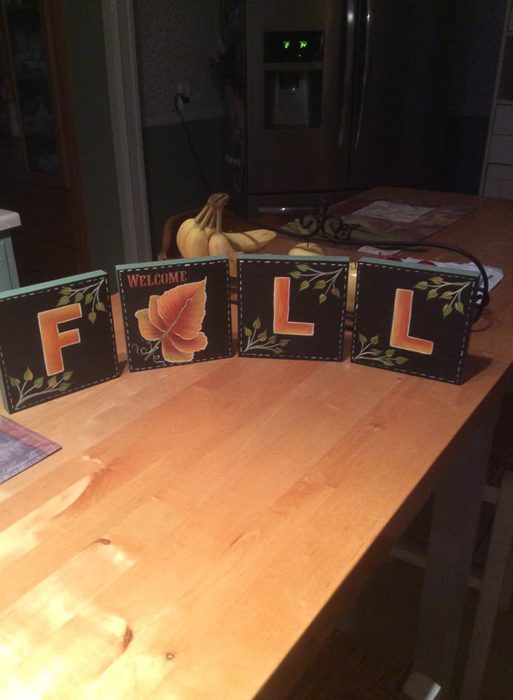 Did you note the little Welcome above the leaf…I love it!
To top it all off, she made a box to keep them in when they are not on display. Very clever.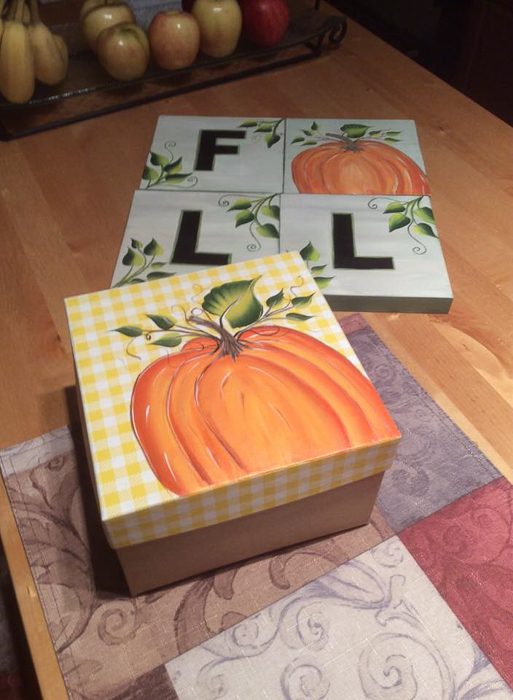 I really do enjoy when people share with me their projects, it gives me even more ideas.  So if you ever make something from one of my tutorials or ideas please do share.  I enjoy it so much!
Happy Monday and lets have a great week!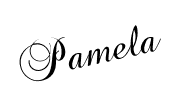 Met Monday